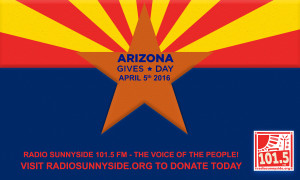 Donate Online
Make a donation securely online with your credit or debit card.

We do not collect or store any card information on our servers. All transactions are managed by Stripe directly in your browser.
Mail-In Donation
Download our donation brochure and you'll find a variety of donation options that suit your financial capacity. Consider becoming a sustaining donor by making a monthly/yearly donation.
Sunnyside Neighborhood Association of Flagstaff is a certified 501(c)3 non-profit to Internal Revenue Service (IRS) standards. We rely completely on private donations, small grants, and creative fundraising events. By donating to Radio Sunnyside, you claim a small but crucial role in sustaining our on the ground efforts to cultivate more meaningful media and public broadcasting. All donations are tax-deductible.
Instead of soliciting from large foundations and allowing large, corporate advertisements on the radio, we are allowing ourselves to be supported from our relationship with the community. By donating, you are a part of creating the space for the people to voice their own concerns and aspirations for their own neighborhood.
---
Other ways to support
Not able to donate? Come by the Radio Sunnyside station/Mercado de Sueños to volunteer (located at 2532 E 7th Ave, Flagstaff, Arizona 86004) or by contacting donate@radiosunnyside.org. Every bit counts and we'll be sure to give a 100% thanks to our volunteers and donors on air.